Develop your intuition. Read my Amazon best sellers and get started using your intuition today!

Does your life seem like one struggle after another?
Hitting constant roadblocks is a sign of not being aligned with your right purpose and work.
The guidance to help you navigate life and find your true purpose will become clear once you activate The Intuition Principle.

The Intuition Principle is the key to finding your purpose, living with passion and joy, and igniting your success.
The Intuition Principle will help you uncover your true path and purpose in life and lead you to your greatest successes! (Purchase The Intuition Principle and receive free bonus material!)
**Scroll down to read book reviews and interviews about "The Intuition Principle" from the official book tour:
This album contains 14 recorded companion guided meditations from, "The Intuition Principle Book."
Get the album and listen to the guided meditations from the book to easily develop your intuition, meet your guides and learn what your passion and purpose is. Purchase by clicking here.
The Intuition Primer will teach you the basics  steps of how to harness your intuition for success. Once you have the basics down – the sky is the limit!
Navigating by Intuition will show how you are constantly receiving feedback in the form of "signs" from the Universe and how to read them in order to navigate successfully through life.
The Intuition Answer Book answers all your questions about developing, identifying and applying your intuition – promise~!
ReAwaken Your Spirituality with the "ReAwakening Guided Meditation System!"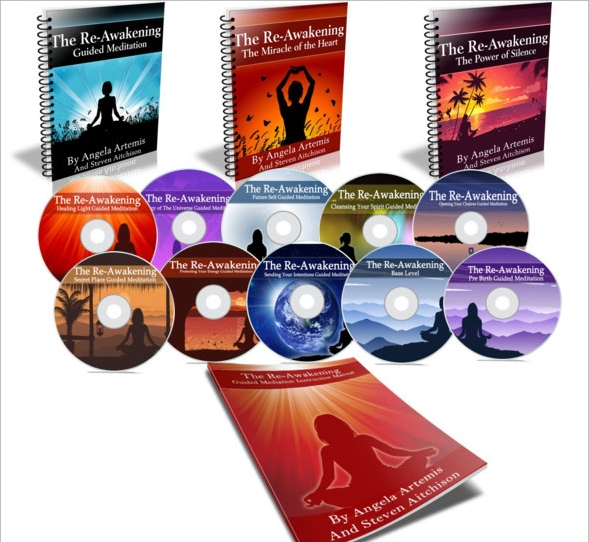 Check out The Re-Awakening Spiritual Growth Book Series:
Read it on a Kindle. I love mine! Click on the Kindle to get yours!
Don't have a Kindle? Read Kindle books anywhere: Your computer, your phone or your tablet. Get the Amazon App. Just click here to be taken to the page to download your App.
Watch the "Navigating by Intuition" Book Trailer here:
XX
The Intuition Virtual Book Tour Schedule.
Read these book reviews and interviews with me by these talented writers! Just search for "The Intuition Principle~!"

May 14:  Tess Marshall www.TheBoldLife.com
May 14: Betsy Henry www.zen-mama.com
May 15: Jodi Chapman www.jodichapman.com
May 16 Vidya Sury www.vidyasury.com
May 16: Irving the Vizier www.hanofharmony.com
May 17: Julie Barrett www.juliedonbarrett.com
May 18: Harriet Cabelly www.rebuildyourlifecoach.com
May 18: Elle Sommer www.ellesommer.com
May 21: Jt Clough www.bigislanddog.com
May 22: Arvind Devalia www.arvinddevalia.com
May 23: Victor Schueller www.victorschueller.com
May 24: Lisa H.Wright www.gettingtozen.com
May 25: Alex Blackwell www.thebridgmaker.com
May 28: Suzie Cheel www.suziecheel.com
May 29: Joe Wilner www.shakeoffthegrind.com
May 30: Galen Pearl http://10stepstofindingyourhappyplace.blogspot.com/
May 31: Teresa Beeman www.celebratesuccess2012.com
June 1: Paige Burkes www.simplemindfulness.com
June 4: Cathy Hull Taninbaugh www.treatmenttalk.org
June 5: Christopher Foster www.thehappyseeker.com
June 6: Patti Foy www.lightspiritedbeing.com
June 7: Debra Eve www.laterbloomer.com
June 8: Lori Smith www.sacredearthpartners.com
June 11: Joy Holland www.facetsofjoy.com
June 11: Lynn Fang www.lynnfang.com
June 12: Melody Fletcher www.deliberateblog.com
June 13: Zeenat Syal Merchant www.positiveprovocations.com
June 14: Farnoosh Brock www.prolificliving.com
June 14: Daylle Deanna Schwartz www.lessonsfromarecoveringdoormat.com
June 25: Steven Aitchison: http://www.stevenaitchison.co.uk/blog/how-to-develop-your-intuition-interview-with-angela-artemis/
July 28: Eric Watermolen: http://www.edenjournal.com/2355/book-review-the-intuition-principle-by-angela-artemis/
To  read a review of, "The Intuition Principle" on Kirkus reviews follow this link.
To read an article about, "The Intuition Principle" on North Jersey dot com follow this link.
To read an article about "The Intuition Principle" on The San Jose Examiner follow this link.
Get Free Bonus Gifts and Stay in Touch! Subscribe Here.