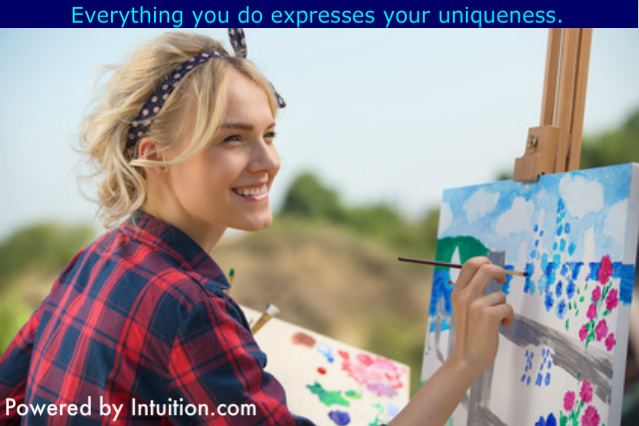 Have you ever been thunderstruck by an idea?
It's as if you've been sleepwalking and then this idea hits you and KAPOW! suddenly, you're awake and crystal clear about something that eluded you earlier. You know exactly how to solve a problem and what to do next and you feel positively on fire about doing so. Don't you love when that happens? This is exactly what happened to me when I spent some time painting at an art studio that instructs groups on how to create a picture step by step.
Nurturing your creativity allows more "intuitively inspired ideas" to come to you.
Being "intuitively inspired" is the foundation of what it means to live your life "Powered by Intuition". When you live a life powered by your intuition intuitively inspired ideas come to you frequently that help you navigate life more smoothly with fewer struggles. And we all want to live our lives in the "flow" and not in a continual battle trying to swim up current! So if you haven't made time to nurture your intuition don't wait, do it soon. Creative activities are an excellent way to increase the volume of your intuition.
Here are the 5 intuitive insights I had while painting a picture. (I saved the best one for last!)
5. You are special and one of a kind. Know that this is the truth about you and it is not dependent upon your achievements nor net worth.
We are absolutely unique in our expression. Seeing how each person's painting turned out so very differently, even though we were given the exact same instructions just blew my mind. It just goes to show you how we each filter our perception of reality through our own personal lens. We cannot be carbon copies of one another no matter how hard we try.
4. Competition is an illusion. Let this notion go. It will only stifle your growth to believe in its existence.
Competition simply cannot exist when we are each so unique. Even if you and I were working to build a similar business they would be different – just like the paintings were different. Each of those businesses would filter through our personal lens and the expressions we brought forth would be completely unique to each of us.
3. Take the road less traveled. Believe in your ideas and have the courage of your convictions to carry them out.
To be a thought leader requires independent thinking. Don't follow the crowd if you feel inspired to "paint" something your own way. Stop watching what others do and listen to your inner guidance! Watching what others do puts you on a collision course with "comparison" and second guessing of yourself. Both of these are the kiss of death for your creative genius and for reaching your potential.
2. Give up chasing perfection. It's a major party pooper!
When you stop striving for perfection you live in the moment and enjoy what you're doing. Do your best and surrender to the process and have fun with it. The more relaxed you are the more spontaneous and effortless the undertaking will be and the better it will turn out. Let go of control!
#1. Seeing IS believing. 
After completing my painting I took a look around the room to see everyone's pictures. I noticed that my trees were very small in comparison with other paintings. I hadn't wanted to obstruct the lake and mountains in the painting by making my trees too large. And then it dawned on me that I have always needed to "see far." As a clairvoyant I "see" symbols, scenes and souls that provide the answers I get. Clairvoyance also called "second sight" can be developed.
I'm always looking to my clairvoyance for answers to verify if I'm on the right track. I trust what I "see" which is why "seeing is believing." Most people have a very hard time distinguishing their intuition from their ego, or worrisome thoughts or wishful thinking, and I understand that. In fact, the most frequent question I received from readers over the last 7 years is, "How can I know my intuition from my other thoughts or feelings?"
And that's when I had my "KAPOW!" moment. I knew I had to teach people to "see" their intuition rather than struggling to rely on feelings and vibes that are easy to misread. If they learned to use "second sight" to receive visual answers they would no longer be confused. So I vowed then and there to create a new program to help you do just that!
If you're not a Powered by Intuition subscriber subscribe to be notified when the course comes out –

sign up here

!
If you enjoyed this article please share it on Twitter, FB or G+. Thanks!
Check out my best seller, "The Intuition Principle" to learn how to tap into your intuition – Here. 
Photo credit: Fotolia © Andriy Bezuglov