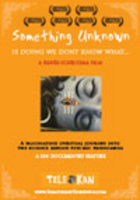 I watched it over the weekend and truly enjoyed it.
To be honest though, I'm already a believer in psychic phenomena since I am a clairvoyant and intuitive by nature, so for me the film was preaching to the choir.
For anyone not familiar with clairvoyance – it's also been called remote viewing and it's the ability to "see" with the mind's eye things at a distance, places, people and objects, one has never viewed or visited physically.In Scheltema's film it's defined as: direct knowledge of the physical world.
It covered 5 areas of psychic phenomena that have been researched pretty extensively; telepathy (mind to mind communication), clairvoyance, precognition (knowledge of future events), psychokinesis (mind over matter), and psychic healing (transfer of energy from the healer).
One of the things I found most fascinating was an experiment that showed our bodies respond to future events before we are consciously are aware of what's going to happen.One experiment was to place people in front of monitors that showed a series of random photos. Some were tranquil scenes and others were more evocative depicting violence or upsetting conditions. Special lenses photographed the pupils of each participant as they viewed the scenes. Amazingly enough their pupils dilated seconds before they viewed the emotionally disturbing scenes on the monitor. Their bodies were reacting before they could possibly have known what was going to appear on the screen. It reminded me of how animals fled to the hills in Thailand before the tsunami hit.
Another experiment I  mentioned in an earlier post: Could Your Thoughts Create an Earthquake? was covered in the film. This experiment is ongoing and called the Global Consciousness Project. Random number generators placed all over the world measure large group events. Large events such as the tsunami, or 9/11 influence these random number generators and cause them to veer off course. Normally they're generating numbers in wandering variability patterns but when these large scale events occur the variability minimizes and the pattern looks very different. In other words it's no longer random. These number generators have been in place for quite a few years so the randomness is well documented. What this means is that we humans are connected to one another and our emotional response to these massive events changes the conscious field on the planet and significantly affects these random number patterns. Huge spikes were noted around events that evoked compassion and deep feelings of connectedness on these days.
In another experiment on telepathy to see if two people in a close relationship can receive information from mind to mind took couples and placed one of them in an MRI machine that scanned the brain and had the sender sit in front of monitor that generated various flashing lights. The receiver's brain resonance showed that when the flashing lights were viewed by their partners their brains showed significant activity in their visual cortex. How was their brain reacting to something their partner saw unless there's some form of mind to mind communication going on? This certainly seems like proof positive to me.
Another part of the film covered remote viewing and I was delighted to learn that some people are professional remote viewers. This was highly encouraging news to me as I often say to my friends what good does it do if I can "see" the inside of your house or cities I've never been too? Well, my question was answered in the film. A group of remote viewers got together and tried to find Saddam Hussein when he was in hiding during the Iraq war. They saw that he was near Tekrit and that he was in an underground chamber and described the house that sat on top of the chamber. I found this part of the film really fascinating. Other remote viewers are using their abilities to find ancient cities in a new area of parapsychology called psychic archaeology.
The only part of the film I really didn't enjoy was the sections dealing with mind over matter. I've never been too interested in bending spoons. I do believe we can affect matter, but I wish it could have been illustrated with more scientific data or other experiments other than spoon bending. Perhaps there is no other data? I don't know, but unfortunately this is the only part of the film I lost interest in.
Other than spoon bending section I did enjoy the film. I also learned a few things I didn't know. It was also good to know that can science validate some of my own abilities.
If you get a chance to see the film I'd recommend it. It's 104 minutes and for the most part very informative and entertaining. I only gave you a few tidbits of what fascinated me, but there were many other things too.  By the way, if you watch the film you'll also learn where the strange title came from….check it out.
If any of you watch the film let me know how you liked it.
Comments
comments
Powered by Facebook Comments